For both men and women we offer closet edits, personal shopping, and everything in between
do you have a closet full of clothes and can't find a thing to wear?
dread seeing all those clothes with the tags still on them?
wonder why you can't seem to put an outfit together?
impulse shop and buy things you later regret?
hate to shop or have no time to shop?
If you answered yes to any of the questions above…
Elena can help!
by working together to:
 – find your personal style
 – make some great outfits
and ultimately build a wardrobe that reflects your lifestyle.
Image & Style Analysis:
Determining what you want your clothes to say about you.
–       Not sure what your personal style is?
–       Do your clothes reflect the image you are trying to portray?
Our consultation begins with a questionnaire to determine your needs, your lifestyle and your style challenges.  Elena will talk to you about your goals, your lifestyle and career to determine realistic wardrobe needs.  Elena will set next steps and your very own "style recipe".
Closet Edit:
Determining what works for you, what doesn't and why.
–       Do you feel overwhelmed every time you enter your closet?
–       Do you have a hard time finding items that are in disarray?
If this sounds like you, invite Elena into your closet.  She will help you determine what should stay and what needs to go.  You will learn how clothes should fit your unique body and tips on how to highlight or camouflage certain areas.  Once the closet edit is complete – Elena will help organize the rest of the clothes in a way that works for you.
Wardrobe Evaluation & Outfit Creation:
–       Do you walk into a closet packed full of clothes – but hear yourself say "I have nothing to wear?"
–       Are you bored with the contents of your closet?
Elena enjoys walking into closets and putting together outfits that her clients never thought of.  Her philosophy is that each piece in your closet can and should be worn at least 3 different ways.  AND it is the least expensive way to shop – with items already in your closet!  Once outfits are created, Elena will supply you with a photo album of the outfits (lookbook) or a binder of wardrobe worksheets detailing all the new outfits.
Personal Shopping:
–       Do you hate to shop?
–       Do you have no time to shop?
Whatever category you fall into, Elena will help make it enjoyable for you.  What works for you?  Elena has done all the shopping and delivered it to her client's home or office or she goes ahead of the client and does the pre-shopping before the client arrives at the store.  Whether it is for a specific event or missing pieces determined from the closet edit and wardrobe evaluation, Elena will teach you tips and tricks in creating the perfect wardrobe for your lifestyle.
Speaker: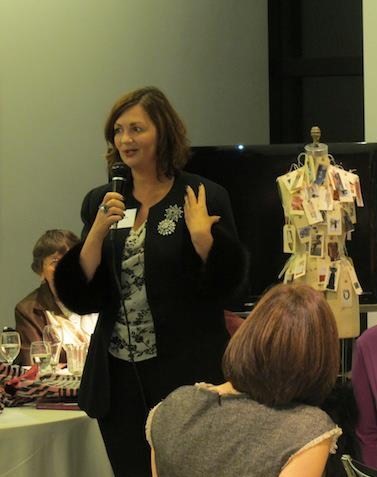 Elena has had the wonderful opportunity in speaking to many corporations and women's groups about career dressing, dressing within a budget and many more subjects.  If your organization is looking for a vibrant speaker – Elena has several topics for you to choose from – or you can work with her to create a specific topic for your organization
Some of the companies Elena has had the privilege to work with:
Hewins Financial Advisors
Charles Schwab
WANDA – Women's Achievement Network and Development Alliance
Several other non-profit women's groups
Style services
Style service
Style service