for those who have been following me via social media or through this blog for a while…you will know about my excitement for all the september fashion magazine issues…at the top of the list…vogue & harpers bazaar…but…i also get excited when i get the annual nordstrom anniversary sale catalog…although it was pretty slim this year…here is the pretty cover…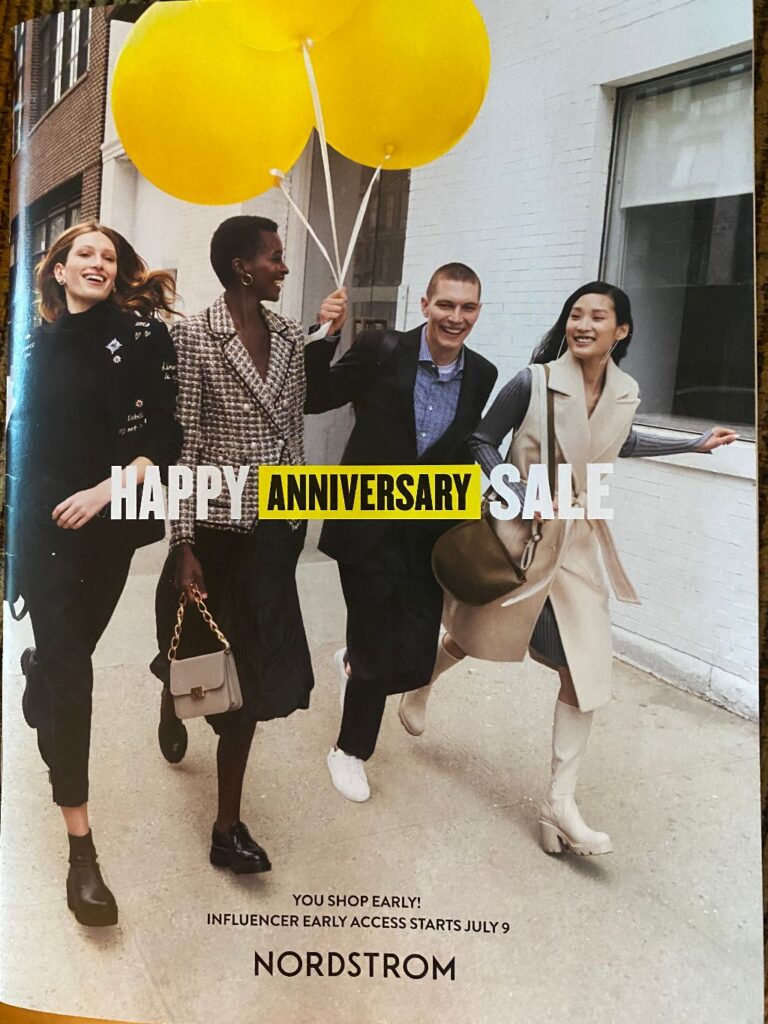 first, though…i can't ignore the fact…my blogging schedule…or lack thereof…i don't really have an excuse for my absence…first it was the pandemic…then it was a move…taking care of elderly parents…and life…
but…i think it is high time to get back to regularly scheduled blog posts…so this is my pledge to you awesome readers that have been with me for many many years…i will starting up again with a consistent blogging schedule…
can you believe it is already july? i seriously cannot believe how quickly this year has flown by…and of course…july means that nordstrom anniversary sale is in full swing…
so it was interesting to me…as i read over my last years newsletter about the nordstrom sale…this was my remark…
"so i have to say…i am a smidge disappointed in the inventory that nordstrom has had lately…this is the sale of the year…where i would literally be swamped shopping with my clients…and really vamping up their fall wardrobes…i don't see much for fall wardrobes…nice boot selection…where is all the cashmere? where are the fabulous fall/winter fabrics? half the inventory looks like it is for summer…i don't get it…and perhaps that is partly the reason why i just couldn't get into the catalogs…
and…one more complaint…and i will get off my negative thinking…nordstrom…what about your plus size customers? there is absolutely nothing for them…i didn't even bother doing a catalog (my apologies) but i wasn't going to pretend there were some great items to pick up…from what i can see…there are two main brands for plus size…bp & caslon…NOT ENOUGH!"
well…it hasn't gotten better…if anything it is worse – most of the brands are not of great quality – a lot of junior brands – which isn't ideal for adult women…and there just doesn't seem to be much new & exciting items…i just don't get it…so with that said – my catalogs aren't very full as in past years…
so for those that don't know how it works…here is a little summary…
this IS the biggest sale of the year for nordstrom…all the fall/winter items go on sale…literally…you can save hundreds and hundreds of dollars…early access has started (for nordstrom card holders) and will last till july 14th…then nordstrom opens up the sale to the public on july 15 thru july 31st…and on august 1st…everything is back to full price…so take advantage!!
some things to keep in mind…
– some items are only available online…for those that are online shoppers this is great news…for those that are not – you may want to make an exception…
– if you see an item you like, but not your color – check the listing…most likely the item comes in multiple colors
– if you see something you like…grab it now! doing these catalogs the last 6 years, i gotten many people telling me they "wish" they had bought an item…things sell out fast! the good thing about nordstrom is that they do have a great return policy…
– if you see something that is sold out – do keep checking…as items do get returned…
so with that said…here are my faves from the nordstrom anniversary sale 2022!
the catalogs are interactive…so if you like something, buy something…comment under the pic…i'd love to know YOUR favorites…so look below…and click on the category you are interested in! and PLEASE feel free to share these catalogs with your friends…it's too good a sale not to share!
nordstrom anniversary 2022 favorites & must haves for…
keep in mind…although not in the catalogs above…this is also the perfect time to stock up on the following during this sale…
beauty products
and all your undergarments!
and take a look at their home goods section too…some pretty fabulous items!
(and keep checking back…as i'm sure i will be adding more items to the catalogs…)
i haven't decided yet on what i want to get…eyeing a few shoes (big surprise) and possible a new handbag…the one piece of clothing i truly wanted…well…i waited too long and it is sold out…but i'll keep checking as the returns come in…fingers crossed…
happy shopping…
until then…
stay stylish!
elena xo
*this post contains affiliate links*