while i am already obsessed about rings…one can never have enough…right? this one…well…it had me at hello…
is it because it is part of the cat family? is it because in high school…we were the burligame panthers? or is it just because…this panther looks so adorable perched on your finger?
while i love almost everything that is alexis bittar…this sweet panther is calling out my name…can someone say meow?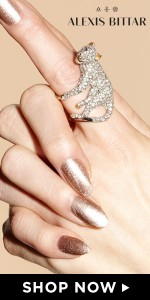 photo source – alexis bittar