for those of you that have followed me for a while…it probably comes as no surprise that i love my booties…many times…they are the focal part of my wardrobe…and i'm a firm believer…that while we should have a basic pair of black or brown boots…why stop there? there are so many options out there…to bring your rather blah outfit to wow…just by adding a fun pair of booties…so i thought i would list some of my favorites that are either currently in my closet…or possibly coming soon…
the great thing about booties…they are great with a pair of jeans, your skirts…even dresses…and you know i am all about versatile pieces in my wardrobe…if you are interested in any of the ones listed…just click on the pic to take you right to the item…
these bcbg max azria booties were in my picks during the nordstrom anniversary sale…and let me tell you…i am so pleased that i got them…i love the color block…and i've worn them with jeans and skirts…they are truly really versatile…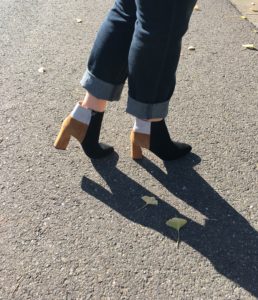 and the best part? they are currently 50% off…and come in 4 colors…like this fabulous blue…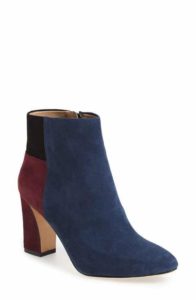 another favorite pair are my leopard print pony hair isaac mizrahi booties…i added these to my shoe wardrobe about 4 years ago…but see? they are still on trend and fun to wear…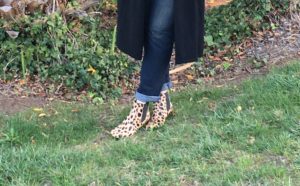 while those above are not available…here is something similar…there are many choices out there if this is something you are looking for…these are by topshop and a nice low heel height…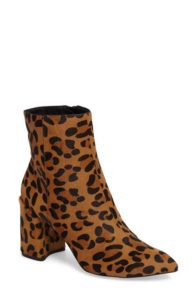 if black is what you are comfortable with…you can still make it fun…just by looking for a fun heel…how about a metallic heel? or acrylic? it is a subtle way to make a statement with your booties…these are by calvin klein…how fun is that heel?
now these beauties are on my lust list…a bit out of my price range…but oh the outfits i could create around them…salvatore ferragamo…you done good!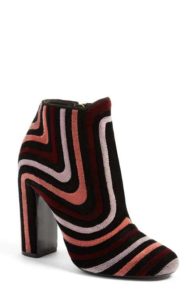 velvet…need i say more? i knew i needed to get at least one pair of booties in velvet…and these were my pick…i went for this luscious burgundy color by steve madden…but almost went for a second pair in royal blue…but…i stopped myself…although the blue ones are on sale…hmmm…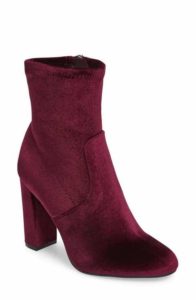 and then there is my love for anything metallic…how fabulous are these silver booties by topshop…i mean…so much fun…and again…a great heel height…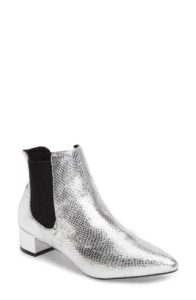 feeling more adventurous? how about a floral motif? these by joie are fabulous…if i have to say so myself…and all those fun colors…people will be staring at your feet! and isn't that the point when that is your focal point?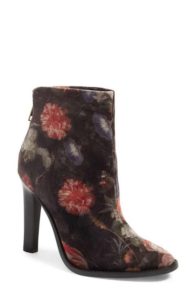 and again…if a neutral color like black or brown is your style…at least try and find some with detail…even a lace-up adds some nice definition and texture…like these steve madden lace-up booties…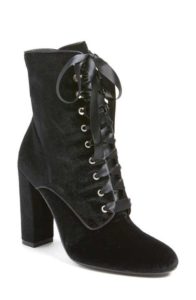 so will you be stepping out and getting a fun pair of booties to add interest to your shoe wardrobe? let me know which print or style you go for…i would love to know! and if you need help styling one of your booties…let me help as well…the key is…to not let them sit in your closet…they are meant to be out and seen!
elena
xo
*this post contains affiliate links*