whenever i travel…it is usually a sure bet that i will be checking out any local vintage shops…so my trip to italy last year…was full of a list of vintage & consignment shops that i wanted to scope out…and i'm SO glad i did…for it was truly one of my best vintage treasure finds…in my big score…i bought a vintage blazer that has served me well…the thing about vintage blazers (well they don't need to be vintage) is that they can truly complete an outfit…something as simple as jeans and a t-shirt…add in that blazer and you have just upped your outfit to a new level…and who doesn't want to look put together…am i right?
when i shop for blazers…i look for certain things…the obvious of course is fit…but beyond that…for me…what makes a fun blazer is color and/or prints…if i'm not mixing prints…i'm wearing a solid column of color…to which adding a vintage blazer with print adds enough personality to my outfit…
this vintage blazer that i picked up i liked for a few reasons…the pattern is so classic…in my humble opinion…you can never have too many of them in your wardrobe…and the color was so unusual…it was a mix of an olive green meets light brown kind of color…the whole point…is that it was a color that i did not have…and truth be told…any resemblance of green…usually has my attention…
so here i am…wearing my "casual" attire…a simple tee and jeans…i love that when i turned up the sleeves of the vintage blazer…the lining – a dark grey…popped against the blazer…and matched my grey tee and jeans…of course…i need to always add a bit of fun to my outfit…and i did so…with a little pattern mixing in my shoes…animal print with gold cap toe flats goes so well with a plaid vintage blazer…don't you think?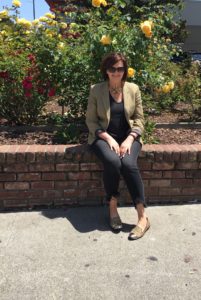 this second look i did a bit more of pattern mixing – adding in a muted print top…while i understand this is a bit much for some…i enjoy pattern mixing…and truly…if this is something you have been wanting to try…when you continue to buy colors and prints that you love…you will be surprised at how many combinations will come out of your closet…
one thing i always talk about with my clients is wearing your items different ways…first you don't get bored with your closet…and it starts to feel like you have a lot of clothes…when actually you are just being creative every time you wear an outfit…
while i am still wearing the same vintage blazer…i opted for a different top…a different necklace…a different pair of jeans…and a different pair of shoes…and while i am still wearing jeans…this outfit is a bit more dressed up…and depending on the occasion…can take me straight into meetings and client appointments…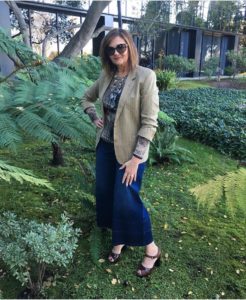 for my last look that i am sharing…i did a bit more pattern mixing…this was extra fun for me…as i picked up this vintage polka dot blouse at the same shop in italy that i found the vintage blazer…i remember being in the dressing room…trying on all the clothes…and when i saw the blouse against the blazer…i thought…that is a fabulous combination…so of course i was thrilled when they both fit!
and as you will notice…while wearing the same vintage blazer…i changed out the blouse…the necklace…and my shoes…it's little changes that completely transform your pieces into a whole new outfit…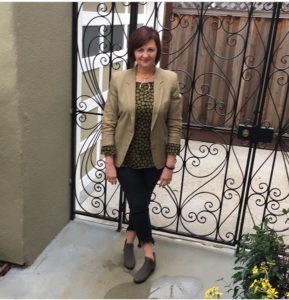 when people talk to me about vintage and vintage shopping…the biggest fear they have is how to wear it…as you can see…my vintage blazer could have been a contemporary piece that i purchased…i mix it into my wardrobe just the same…so if you have been contemplating to add a few vintage pieces into your wardrobe…start with something simple…like a piece of vintage jewelry or even a vintage blazer…
and do share in the comments below how you put it together…
if you would like to follow me more closely in my quest to wear my items lot's of different ways…you can follow me on instagram where i post my outfits…
till next time…stay stylish!
elena
xo