for those of you that have followed along on my social media accounts…you might have noticed my love for wearing a kimono…i thought i would show some of my favorites…and give some reasons as to why i am a big proponent for adding some to your wardrobe…
this first one is my latest acquisition…happens to be vintage (which is always a plus for me)…and very different from my other ones…is there any doubt why i would pick it up for myself?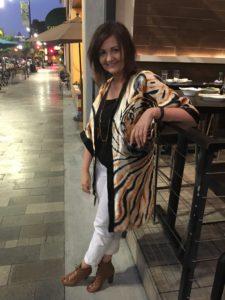 one big reason that i love a kimono is the vast array of prints and color that can be added to your wardrobe…instantly…and the best part…is you really don't need much else…add a tank top & jeans…a fun pair of shoes and you are ready for a nite out…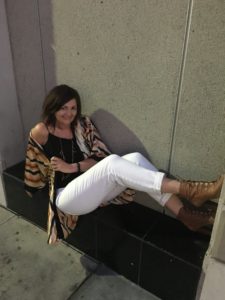 a kimono can be styled as a casual look…or dressy…truly depending what you are wearing with it…i tend to wear mine casual…but i will probably be adding them to an lbd (little black dress) to spice it up a bit…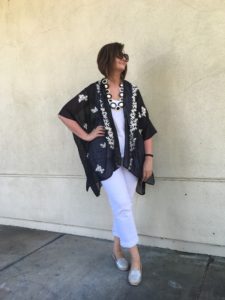 this one caught my eye…for the beautiful embroidery that it had…both on the front and back…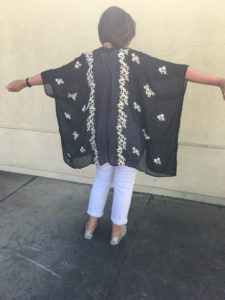 and then of course…i had to add one with florals…again…the easiest way to add color and prints…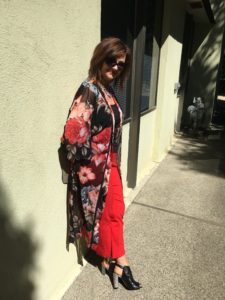 but let's get personal…as i've gotten older…there are certain parts of my body that i tend to not show like i used to…two of which would be my upper arms…and my knees…are you feeling me?  so i love the idea that a kimono is light and breezy…and can cover my upper arms without being blatant that that is what i am doing…well…until i tell you…
i also like that there are many different lengths…depending on your height…there is a length for all of us…isn't that good to know?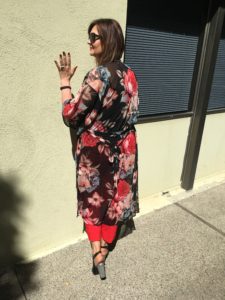 and while we are getting personal…i also have my occasional "personal summer"…(read: hot flashes) and wearing a kimono has saved me! while i do like the idea of layering…i need to be very careful of the heaviness of the layers…and kimonos give me that luxury…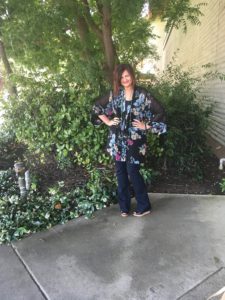 and did i mention the wonderful array of prints and colors?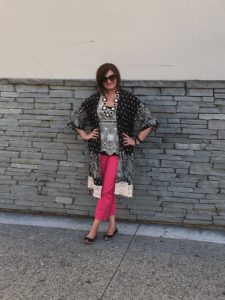 then there is the comfort factor…i can go through my whole day feeling comfortable…but feeling like i have a "style"…that i actually took time to create an outfit…in actuality…this was a look that took 5 minutes to create…
gotta love that…right?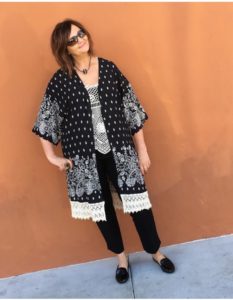 i even have one for the fall/winter months…in a beautiful velvet kimono…but it is just the one…hmmm…wonder what i will add for this upcoming fall season…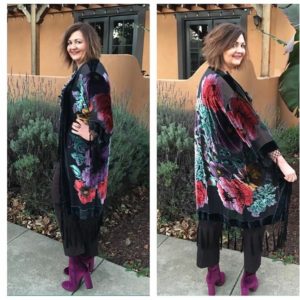 how about you? is the kimono something you have added to your wardrobe? if not…perhaps you might give it a try…it truly is a piece that goes with so much…jeans, dressy slacks, dresses and even shorts…
how will you wear your kimono? do share in the comments below…
thanks for reading…
till next time…stay stylish!
elena
xo