when i start working with a new client…there are a lot of conversations that happen…actually more than conversation…i should say…there are a lot of questions that are asked…
why…you may ask?
because each person is individual…and i would not be doing my job…or doing them any good…by providing a cookie cutter wardrobe solution for their closet…the wardrobe is determined by their lifestyle…dress code for work…if there is one…what activities are done with the kids…what type of social life they have…and a whole host of other things…
so for example…someone that has a special event maybe once a year…and works from home…and has 2 small children…is going to have a WAY different need then lets say…someone that is out minimum 2x a week with social events…the theatre…travels for work…and likes to hike…
same goes for your hair stylist…they need to be asking you a miriad of questions…to determine what style not only is best for your face shape and features…but also your lifestyle…
i am blessed to have my sister-in-law as my hair stylist…she is the color queen…here is a pic of my last appointment…but even though she knows me pretty well…she still asks me questions in regards to any new hair style i may be requesting…or that she is suggesting…
side note: if you are in the folsom, california area…ping me…she is THAT good! and yes, i would say that even if she wasn't related…and yes, i drive 2 hours every 6 weeks to have her do her magic on my hair…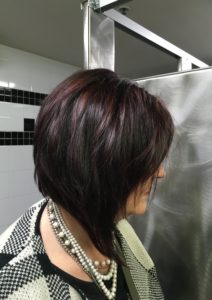 "ONLY HER HAIRDRESSER KNOWS FOR SURE…"
when this slogan was first introduced by Clairol in the 50's, it spoke to the intimate relationship a woman had with her hairdresser…even though women were finally able to color their own hair for the first time, the relationship between a woman and her "hairdresser" (now stylist) remains to this day one of the most personal in a woman's life…however the question now is "does your current hairdresser know "for sure" about you and your needs when it comes to your hair?
sometimes…we lie…
it's true – we lie to our stylist..we lie when we don't tell her about the true problems we are having with our current cut or color…we lie when we aren't honest about the amount of effort we are willing to make in order to have that certain "look" that we want with our hairstyle…
in order for our stylist to give us the best service and for us to feel like we are spending our "maintenance dollars" in the best possible way, we must own up to our own lack of honesty and/or if our stylist isn't asking the right questions of us, we must take the initiative and introduce the subject(s) that are troubling us…with that in mind, here are a few tips and teasers to get you thinking about what you might want to discuss with your stylist at your next appointment…
can we talk?
1. does he/she ask about your hair? "how is this cut working for you?" "tell me what's going on with your hair since you were in last…"
2. do you have a thorough discussion with him/her about what's required in order to achieve the look you think you want? are you willing to use the proper products and take the time necessary for the style, or is it too much of a bother? he/she should be willing to honestly discuss whether a style is appropriate for your face shape and lifestyle, as well as whether the color you want is actually achievable and, as important, appropriate for your coloring…
3. does your stylist deep condition your hair (not just the quick condition when they are washing your hair?) this is especially important if you are doing any kind of processing on your hair, whether it is color, bleach, permanent or straightening…
4. does your stylist allow enough time for the overall treatment of your hair – including color, conditioning and cut? sometimes it's easy to feel like we're being rushed through the salon, and some things (like color, for instance) just can't be hurried…likewise, have YOU allowed enough time in your schedule so you're not pressuring the stylist to hurry through the process? (sometimes, we're our own worst enemy with our over-booked calendars, yes?!)
5. are you doing your part? just like with our skin, our hair (and nails) reflect our diet…don't forget your vitamins too – besides your multivitamin, both biotin and primrose oil can be a big boost to your hair and nails…are you using the proper equipment (like a boar bristle brush?) are you deep conditioning once a week – putting a shower cap on and heating it up with your dryer for 10 minutes or so, so the conditioner can penetrate? maybe your stylist has given you other guidelines to help maintain the condition and style of your hair – are you following them?
6. are you willing to adapt your style and color as you age? just as we have to modify our color palettes for our clothing somewhat as we age, the same is true for our hair and make-up…the style and color we've always worn just may not be appropriate for us twenty years later…are you open to discussing this with your stylist so that he/she can use their talents to make suggestions?
breaking up is hard to do…
lastly, if you're not satisfied with your current stylist, maybe you should try someone new…it's difficult for us women to even think about "cheating" on our stylist, but it's also important that we feel we're getting the very best care and advice possible…don't forget our part in this: we have to be honest with our stylist about our needs and limitations, what we are and are not willing to do, what we are and are not willing to pay…when the communication and cooperation is a two-way street, truly your stylist can know you "for sure" and you'll be all the happier for it…
"Hair style is the final tip-off 
whether or not a woman really knows herself."   
~ Hubert de Givenchy, Vogue, July 1985
if this is true, then a great many of us struggle with a true "knowing" of ourselves…hair is an integral part of our image and self-perception, even more so than the clothing we put on our body, because for one thing, we were born with it…long after we have moved onward from clothing styles we wore many years ago, many of us still cling to a hairstyle that we feel best suits our self-image – how we "see" ourselves…the question is, "is our 'seeing' of ourselves a true reflection of who we are NOW?"  as with other areas in our lives, sometimes we need a little help in figuring that out…i hope you have a great, honest relationship with your stylist so that he or she can help you 'see' yourself at your best NOW – whatever age that may be…
stay fabulous…
elena